Tunturi Half Smith Machine SM60
Do you lift weights frequently, and do you want to lift weights at home too, to build extra muscle mass? Exercise when you want to, and preferably without a spotter? You can, with the Tunturi SM60 Weight Bench – Half Smith.
Incredibly solid structure, finished in a black matte powder coating for a luxurious look
Compact and versatile home gym for use at home or at the gym
Suitable for 50 mm (2 inches). Olympic and 30 mm (1.2 inch). Standard weight plates
Possibility to train alone, without a spotter. Exercise safely, at home, with this weight bench/Smith machine combination!
free shipping
Hassle Free Returns
Maximum Load Capacity
It's important that you know what the maximum load capacity is of your equipment per part. You will find this in the images on the right. If you subtract your body weight of the maximum load capacity, you will know the amount of weights you can load. You include your body weight only when there are parts on which you can sit or lay on.

Example: If you weigh a 100 kg, you can train with 100 kg on the SM60 before you reach the maximum load capacity of 200 kg.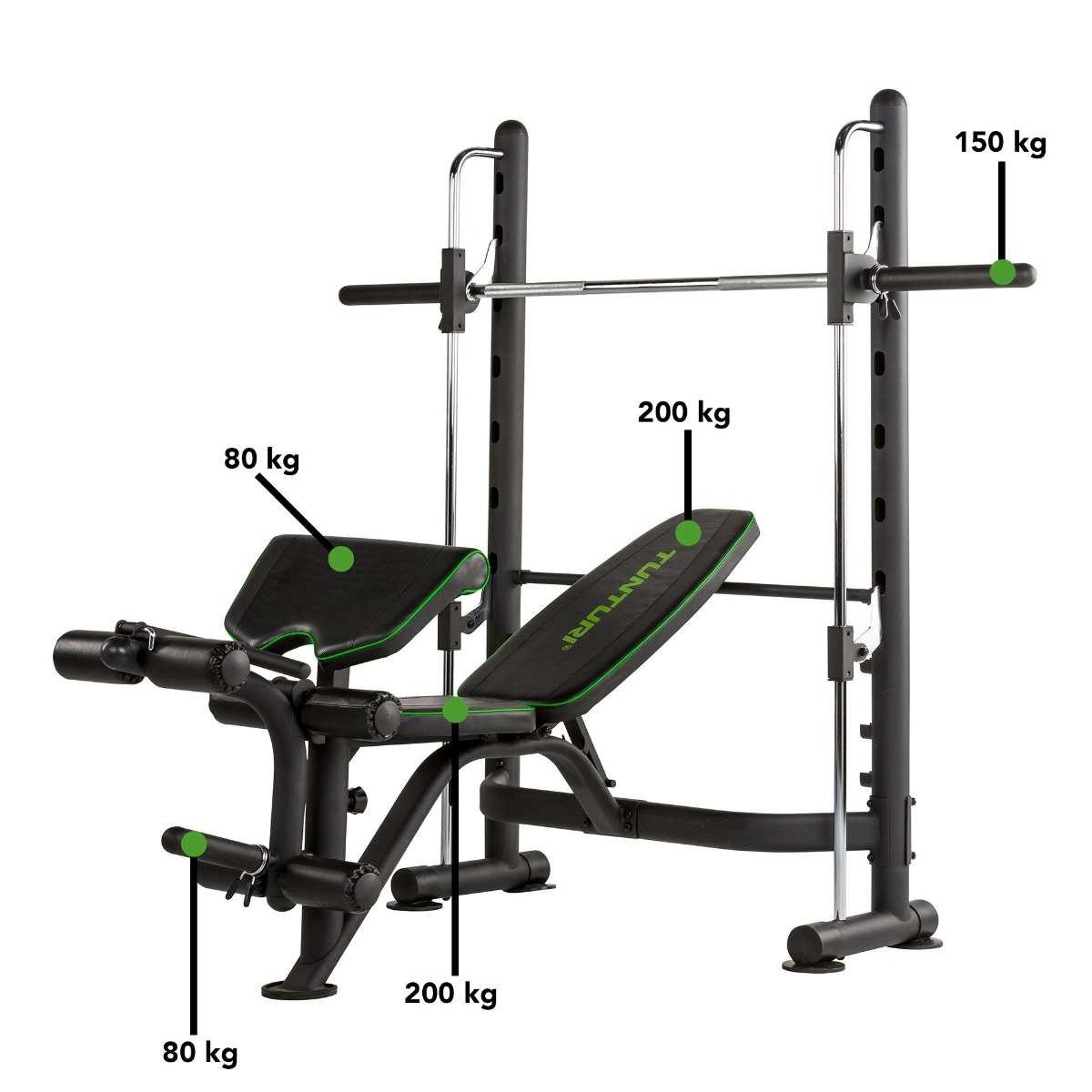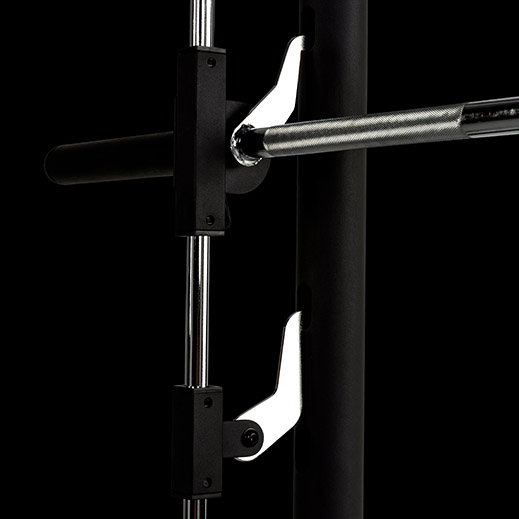 Barbell Spotter
The Tunturi SM60 consists of a weight bench and a Smith machine. The Smith machine is suitable for different bench press exercises.
Arm curl
By combining the trainers with the handlebars and the support cushion, you can perform various strength-building exercises for your arms and legs. For example, the biceps curl, the hamstring curl or the leg extension. Simply attach the correct number of weights at the bottom.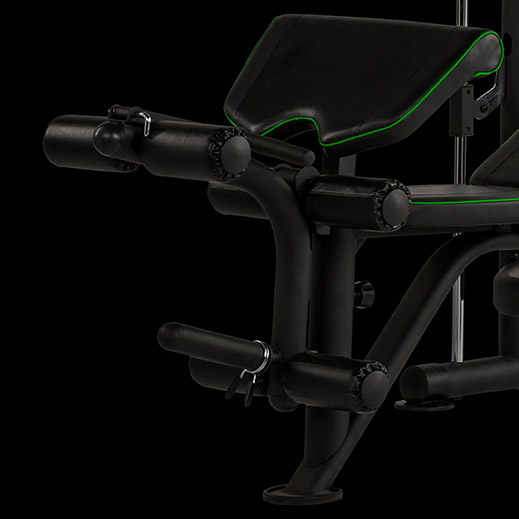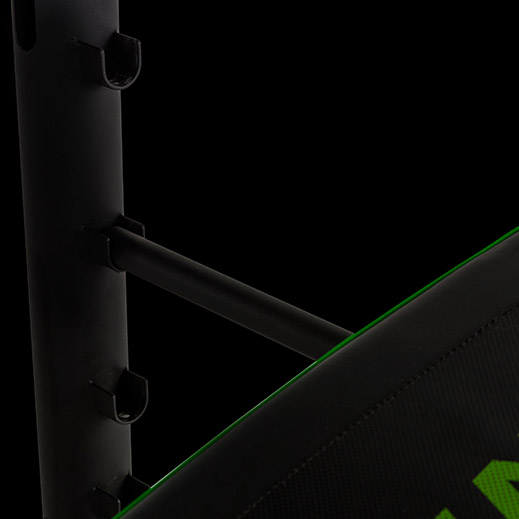 Adjustable Backrest
The weight bench backrest is adjustable. The bench is perfect for bench presses when it's entirely flat. When you position the backrest at an incline, it's the ideal sit-up bench for abdominal exercises, with or without a weight.
Spotter
Safety is guaranteed during your workout since you can secure the weightlifting bar to the barbell supports at any time.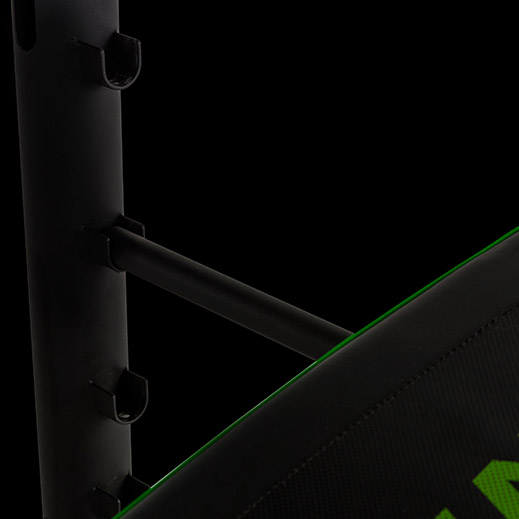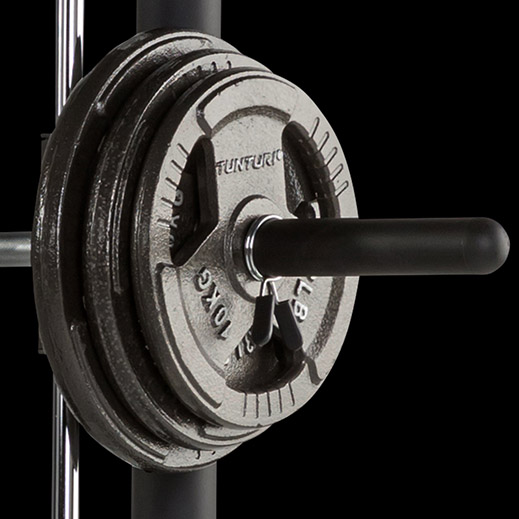 30 & 50 mm weight plates
Suitable for 50 mm (2 inches). Olympic and 30 mm (1.2 inch). Standard weight plates
More Information

| | |
| --- | --- |
| Foldable | No |
| Max user weight | 140 kg |
| Assembled dimension | 180cm (L) x 186cm (W) x 178cm (H) |
Customer Reviews
Be the first to review this product
0%
of customers recommend this product