AIBI Teeter Hang Ups FitSpine XC5 Inversion Table
Fitspine XC5 Inversion Table by AIBI Teeter is the top-of-the-line model designed to provide a luxury inversion experience, with a contoured frame for easier mounting and dismounting. Also, featuring a custom pivot system for supremely smooth and controlled inversion experience.  
Patented FlexTech™ Bed
Premium Ankle Lock System
One-Click Balance Feature
Precision Balancing
free shipping
Hassle Free Returns
Solution for a Better Back
AIBI Teeter Inversion tables are THE ONLY FDA-REGISTERED INVERSION TABLE. AIBI Teeter Inversion Tables are registered as a Class 1 Medical Device with the FDA, designed to provide traction to the spine while stretching para-spinal muscles.
The Teeter Inversion Table is indicated for the following conditions:
Back Pain
Sciatica
Spinal Degenerative Joint Disease
Spinal Curvature due to Tight Muscles
Muscle Tension
Herniated Disc
Degenerative Disc Disease
Spinal Stenosis
Facet Syndrome 
Muscle Spasms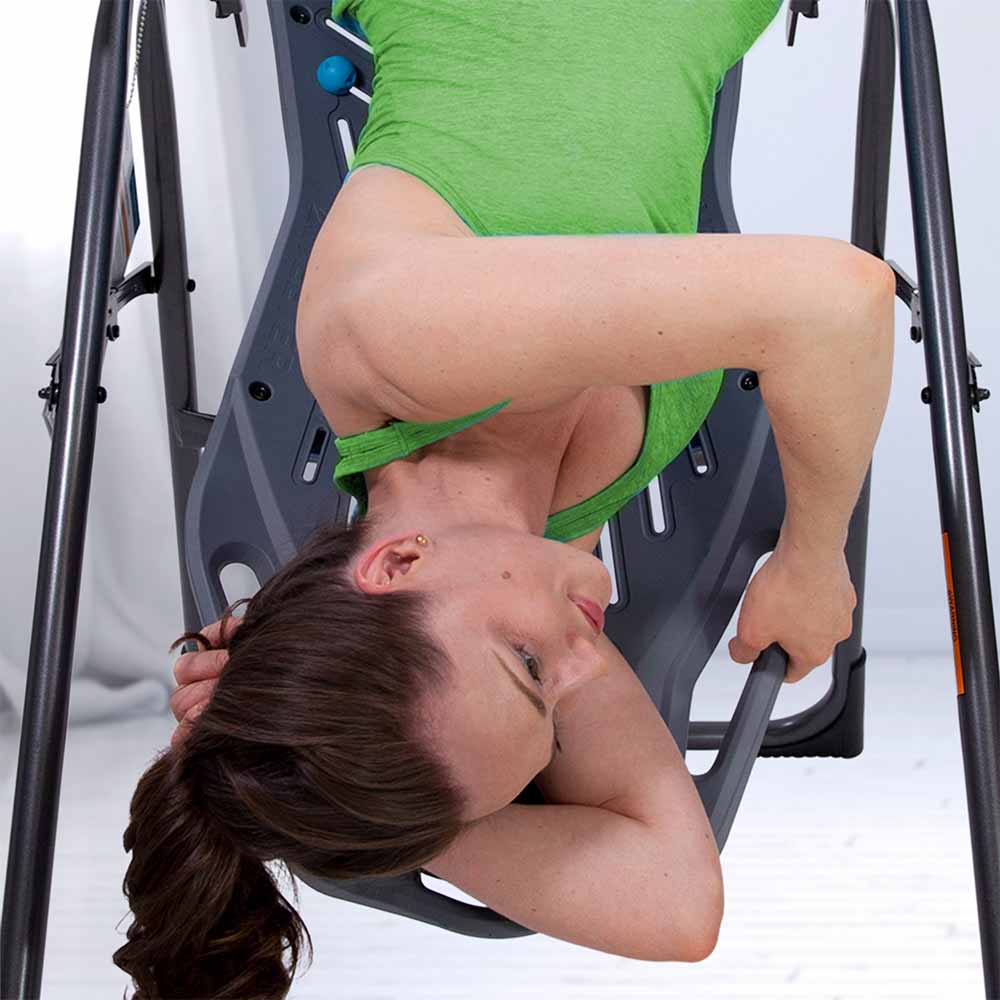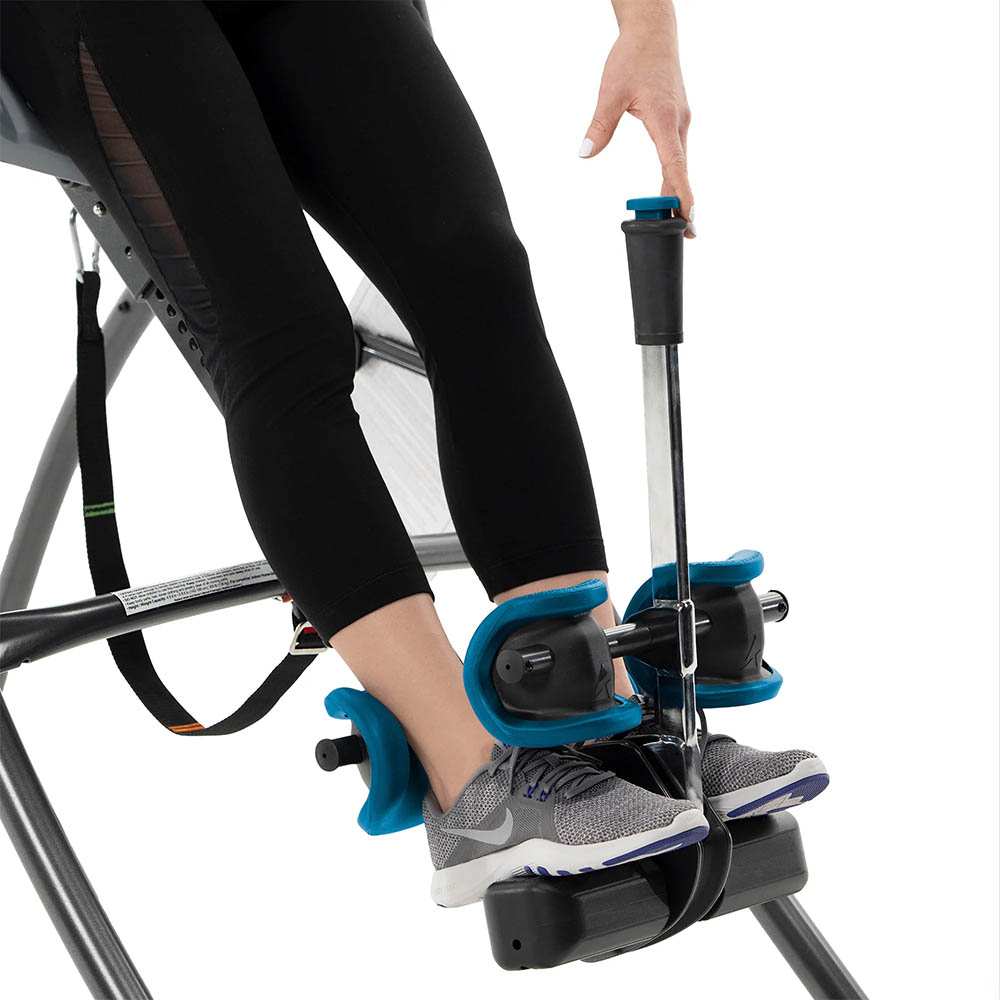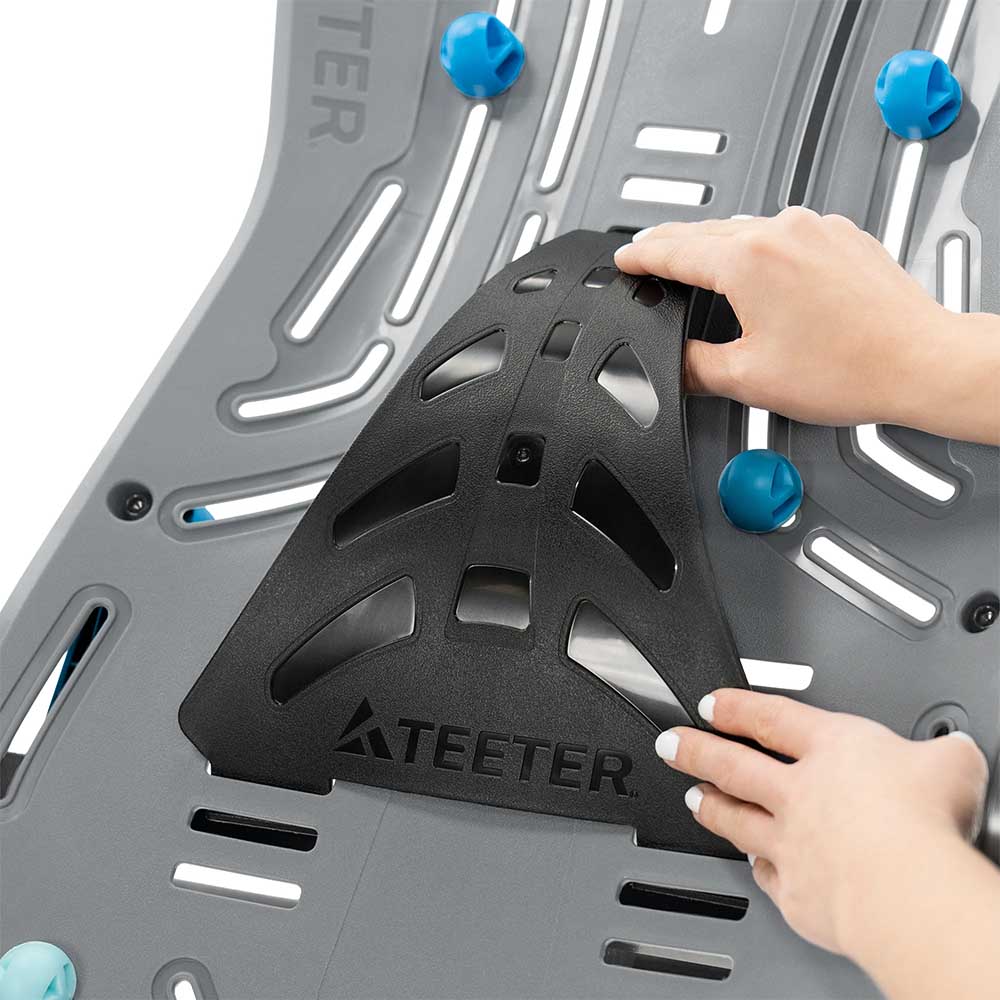 FlexTech™ Bed
Patented FlexTech™ Bed supported by an 8-point suspension system that flexes as you move. The unique track design on the table bed accommodates the included Lumbar Bridge and Acupressure Nodes for targeted traction and pressure-point relief.
 Deluxe EZ-Reach™ Ankle System 
The extra-long handle makes securing your ankles easy and strain-free, with a smooth, micro-adjusting ratchet closure to ensure the best fit. Built with aerospace-grade steel parts and a gravity-activated safety lock.
CUSTOMIZABLE COMFORT & SUPPORT
Place the Acupressure Nodes & Lumbar Bridge anywhere along the tracks in the bed for trigger-point release and support of the lower back for deeper decompression.
Stretch Max™ Handles
Long, sturdy grips integrated with the frame provide enhanced user assistance and stretching options at any angle. EZ-Stretch™ Traction Handles have three uses in one! A simple push and release adds decompression at lesser angles of inversion or easy rhythmic oscillation; push on the ends for a quick-release from full inversion.
How does inversion Relieves back pain?
The causes of back pain are many, though often caused by soft tissue damage from spinal misalignments, tense muscles, or a weak core. Impact activities and daily life under the unavoidable force of gravity cause compression of the spongy discs between the vertebrae in your spine. As the discs lose moisture, the space between each joint narrows and the chance of pinching nerve roots increases.
Teeter Inversion Table helps the body decompress, using your own body weight and gravity to elongate the back, relax tense muscles and relieve back pain. Because it decompresses using the same forces that compress the back while upright, this natural form of traction is comfortable and can be easily done in your own home.
How to use AIBI Teeter Inversion Table?
1. Set Height – Use the spring-loaded locking pin to select your height on the main shaft. Note that the height settings are just a guide to get started – your actual height setting may vary by several inches depending on your weight distribution. We recommend starting at 1″ taller than your actual height, then testing your balance before settling on your ideal setting.
2. Set Angle – Use the tether strap to limit your angle of inversion (this is important when you are just getting started) or remove for full 90 degree inversion. Some Teeter models feature an EZ Angle Tether with markings to pre-set your inversion angle to 20, 40 or 60 degrees, but all can be micro-adjusted to the perfect angle for you. When starting out, limit your angle to somewhere between 20-45 degrees, then gradually increase that angle over time as you become more comfortable.
3. Lock Ankles – Carefully step over the Main Shaft. With both feet on the floor, sit/rest your lower body on the bed (do NOT lean back yet).
Step onto the foot platform one foot at a time. If needed, adjust the back of the cushioned ankle supports so they wrap around your ankle.
Close the ankle closure to secure snugly around the ankles (this will vary by type of ankle closure).

Use the 'Hear, See, Feel, Test' method to ensure you're properly secured.
4. Lean back and relax – The beauty of inversion therapy is that gravity does all the work for you. To get the full benefits of decompression, focus on breathing deeply and relaxing the muscles in your back. It may help to visualize the back muscles releasing with each breath.
More Information

| | |
| --- | --- |
| FlexTech Floating Bed | Yes |
| Foldable | Yes |
| Ergo-Embrace Ankle Supports | Yes |
| FitSpine Lumbar Bridge | Yes |
| FitSpine Acupressure Nodes | Yes |
| Deluxe EZ-Reach Ankle System | Yes |
| EZ-Stretch Traction Handles | Yes |
| Stretch Max Handles | Yes |
| Assembled dimension | 82" x 27.8" x 90" |
| Folded dimension | 25" x 27.8" x 69" |
Customer Reviews
Be the first to review this product
0%
of customers recommend this product